Platforms
MDPad provides a variety of solutions for its users (physicians and other care givers) to help them automate their offices, provide group connectivity without altering workflow. MDPad may be used to write orders (prescriptions, lab, radiology, other tests) perform charge capture, dictate notes, all at the time of a patient encounter!
Platforms: Handheld, Handheld with Wireless, Desktop, WebHosted



Handheld


Handheld with Wireless


Desktop, Notebook, Tablet


Web Hosted



MDPad Applications along with patient data, prescription knowledge base, medical decision support system, and charge capture features are loaded on a handheld computer with requisite storage and processing power, usually any PDA running pocketPCä or Windows CEä Operating system ("device") and a separate IR enabled printer.

Users print the transactions on the IR enabled printer.



Wireless Local Area Network (WLAN) with no Internet connectivity:
User's office is configured to work as a WLAN. MDPad devices equipped with a wireless net interface card (WNIC) communicate to an access point and then to central system(s). All transactions committed on the devices could be printed at any designated area(s) such as the front desk. On the way out the nurse or office assistant would handover the prescriptions, lab and other orders, go over any additional instructions, and schedule follow up appointments with the patients. Prescriptions may be faxed to a pharmacy from the central system. There is no Internet connectivity.
WLAN with Internet connectivity in office
WLAN's Central System is connected to internet (with a cable modem / xDSL / or dialup modem). There is wireless Internet connectivity in the office. The speed of connection to the Internet depends on the method of connectivity. All MDPad devices equipped with a WNIC can then access the internet within the office for internet surfing including "Care Transactions" such as:
a. Sending orders or information to pharmacies and such other providers who are capable of receiving such orders via Internet.
b. Receiving lab and radiology results from such providers who are capable of sending such results via Internet.
c. Sending and receiving emails.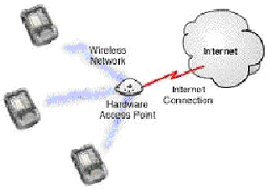 Wireless Wide Area Network (WWAN)
The MDPad device with a wireless modem brings wireless wide area Network ("WWAN") i.e. mobile access to users. WWAN's are generally operated by public carriers like Metricom, Verizon, AT&T, GoAmerica, Aether et al and use open standards such as CDPD, GSM, CDMA and PHS. Transfer rates are from 5 kbps to 20 kbps. It provides the greatest coverage but there are coverage holes and speed issues.

In the "access region" the user will be able to transmit "Care Transactions" via Internet as well as do web surfing.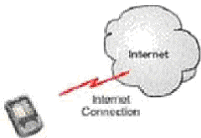 WLAN with Internet Connectivity in office and
Wireless Internet Connectivity outside the office
This is a hybrid environment combining WLAN in your Internet enabled office with WWAN outside the office.
To get this functionality, the wireless NIC is changed to a CDPD modem when the user is outside the office.


MDPad software can run on any desktop computer notebook computer or tablet computer running either Microsoft Windows 95, 98, ME, NT & 2000 or the PocketPC operating system. Hence when your office manager, nurse, or administrator needs to perform tasks they can do so without having to borrow your MDPad. Additionally most office have computers which are capable of running the MDPad desktop software. This provides a cost effective way of providing MDPad for office staff without incurring the greater cost of handheld device.
With any web enabled and connected device, in a secure manner you can log in and perform all the functions of the MDPad system. Imagine being at home or away from the office without your MDPad and wanting to look up medical information, browse labs, enter orders or anything you may want to do. Now you can! With our web hosted services your office information is available where you need it.